---
WEDDING DAY TRANSPORTATION & HOTEL INFORMATION
UPDATED 08/06/2015
---
Divinely Prepared, Beautifully Unfolding.
Join Us on the Journey that is…
Sarah & Stephen
---
Hey Y'all!
Welcome to Our Love Story, the website for our wedding featured on twinarcsfarm.com! Enjoy this collection of information regarding your anticipated stay on North Carolina to witness our marriage and celebrate with us! Read through the headings below to get acquainted with all the joy and gladness that awaits.
Love & Blessings,
Sarah & Stephen
---
How it all began…

It was a warm summer evening when Sarah was out reconnecting with some friends at Redstone when she met Stephen for the first time. Funny thing was that Stephen was also out reconnecting with his friend that same night. Sarah and Stephen's conversation was endless and their laughter was intoxicating. They spent hours after their friends left (and after all the other patrons left) dancing to the music on Redstone's outdoor patio! Sarah left that evening with butterflies in her stomach. And, it left Stephen wanting another dance!
On their first date to The Farmer's Cabinet (go figure) in Philadelphia the following month, Stephen will always remember Sarah coming down the stairs of her 3-story apartment that evening. She looked absolutely stunning in her black summer dress. They greeted. Stephen escorted her into his car, walked to his door, took a deep breath and said in his heart, "Here we go!"
After their first date, Sarah knew there was more to Stephen she wanted to discover. She couldn't get enough of him! From his kindness and positive outlook on life to his steadfast love for God, she wanted to be part of his life and he a part of hers! Stephen was amazed with how closely they aligned and how genuine and loving Sarah is. Then, they found themselves in love. A love divinely prepared. They challenge each other, support each other, and love each other for who they have been designed to be.
Since the day they met, the happiness and closeness they share with each other is beautifully unfolding. Their love and pursuit of the Heavenly Father has blessed them in their love for each other, their love of the farm, and their love for each one of you. That was exactly what they were seeking… and He delivered.
This is Love.
---
And she said yes!

Two years later, they decided to pursue 'beyond organic' agriculture on a breathtaking North Carolina farm. For a year and a half, their pursuit involved growing crops, raising chickens, and building the homestead. In early Spring this year, they set out on a camping trip to Hanging Rock State Park. Sarah would later find out Stephen had just a few more things planned! They set out on a hike on a gorgeous day witnessing two running waterfalls, a Red-tailed Hawk and Barred Owl, and 100+ year old stone houses.
They reached Hanging Rock Trail and started up the cliffside. At the top, the sun was shining, the wind was whistling, and the view was absolutely incredible. What a blessing! They took some pictures and sat on a rock in the shade 'for a snack'. Shortly thereafter, Stephen read from the Scriptures, got down on one knee, and told Sarah he wanted to spend the rest of his days with her and asked her to marry him. With tears in her eyes and full of smiles, Sarah said, "Yes!"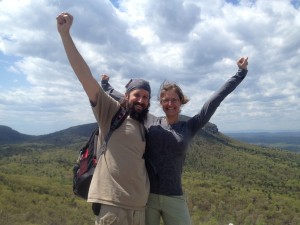 ---
Our Wedding Day!
September 5th, 2015
4:00pm
Attire: Country Chic
---
Ceremony

"Under The Oak"
Old Oak Farm
4535 Garner Lane, Denton, North Carolina
---
Reception
"Under The Stars"
Old Oak Farm
4535 Garner Lane, Denton, North Carolina
---
Wedding Day Transportation

A 20-passenger Motor Coach will be provided on Saturday, September 5th.
Transportation will be provided from Fairfield Inn and Suites, Asheboro to Old Oak Farm, Denton.
Google Maps quotes the 16.6 mile trip in 24 minutes.
***
The Motor Coach will be running two trips in the afternoon.
The first Motor Coach trip leaves at approximately 2:15 PM, transporting up to 20 guests.
The last Motor Coach trip leaves at approximately 3:15 PM, transporting up to 20 guests.
***
The Motor Coach will be running two trips in the evening.
The first Motor Coach trip leaves at the end of the reception when the coach fills 20 guests.
The last Motor Coach trip leaves approximately one hour later.
---
In the Event of Inclement Weather
Ceremony will be held at
Mount Ebal Church
Denton, North Carolina 27239
Only minutes from the farm, directions will be provided if needed.
---
Attire Suggestions
This will be an outdoor ceremony and reception in late Summer. Plan accordingly.
Average Temperature on September 5th is High: 82F and Low: 63F. Last year, High: 87F Low: 69F. Previous year, High: 83F Low: 62F.
A covered dining area and wooden dance floor will be on the lawn adjacent to the barn.
We will be providing large fans and cool drinks.
Follow our Pinterest Board for some visual suggestions!
https://www.pinterest.com/twinarcsfarm/sarah-stephens-wedding/
---
Gift Consideration
For wedding gifts written by check, please make payable to TWIN ARCS TRUST.
---
Hotel Accommodations

Fairfield Inn & Suites
920 Executive Way, Asheboro, North Carolina
(336) 653-3107
Choice Room Rates: When making your reservation, refer to the "McGarvey/Whitehead Wedding".
Or, mention the group block code "MWWOK" for a Guest Room, 1 King Bed.
Or, mention the group block code "MWWOD" for a Guest Room, 2 Double.
$99.00/night +tax
(Reg. $119.00 + tax/night)
---
Directions from Hotel to Ceremony & Reception
16.6 miles / 23 minutes without traffic
Head south on Executive Way toward East Dixie Drive — 318ft
Turn right onto US-64 West/East Dixie Drive
Continue to follow US-64 West — 2.6 miles
Turn left onto Connector Road — 0.1 miles
Turn right onto NC-49 S (corner of Tank & Tummy gas station) — 9.8 miles
Turn right onto Brantley Gordon Road (just before Marathon gas station) — 3.5 miles
Turn left onto Garner Lane — 0.3 miles
Travel through the gate and you have arrived!
Parking is available in the field beyond the Old Red Barn on the left. Follow parking signs.
---
Lodging Alternative
For those that love the outdoors and desire an alternative to a hotel, Old Oak Farm is located conveniently near: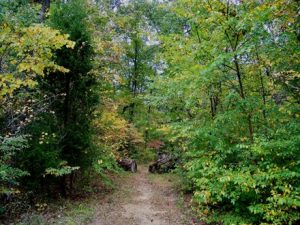 Highway 109 North, Troy, North Carolina
(910) 576-6391
Enjoy camping or a picnic at one of the many day-use areas. A list of camping and day-use areas in the Uwharrie National Forest can be found here.
---
Awesome & Affordable Dining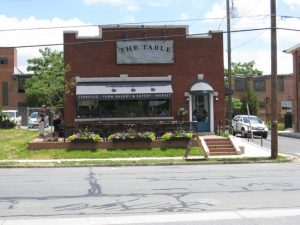 139 S Church St, Asheboro
(336) 736-8628
Our favorite farm-to-table restaurant in the area! The menu and decor gives you that down on the farm feel.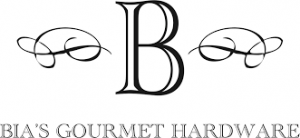 103 Worth St, Asheboro
(336) 610-2427
An upscale New York style twist to a Southern Kitchen at a reasonable price!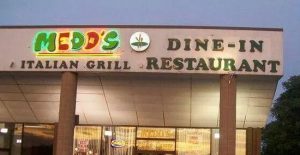 338 N Fayetteville St, Asheboro
(336) 633-4125
We love their vegetable stromboli and their pizza is good, too!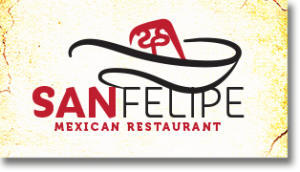 1222 E Dixie Dr # G, Asheboro
(336) 629-5633
A consistent Mexican Restaurant with decent food, wide Mexican beer and drink selection, and family atmosphere.
---
Fun Things To Do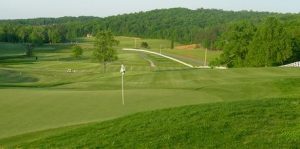 3185 Tot Hill Farm Rd, Asheboro
Tot Hill Farm Golf Club, located in Asheboro, is one of the state's premier golfing experiences. Rated 4.5 Stars Best Places to Play & Ranked the 7th Hardest Course in America by Golf Digest. Are you ready to experience the most breath-taking, awe-inspiring golf you've ever played?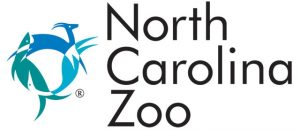 4401 Zoo Parkway, Asheboro
The North Carolina Zoological Park is located in Asheboro in the Uwharrie Mountains near the geographic center of the state. At over 2,000 acres, it is the largest walk-through zoo in the world. The NC Zoo has over 1,600 animals from more than 250 species primarily representing Africa and North America. The zoo is open 364 days a year and receives more than 700,000 visitors annually.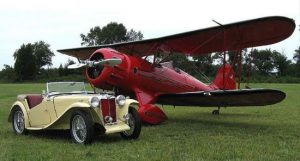 2222 Pilots View Rd, Asheboro
Immerse yourself in aviation history! See stunning military artifacts and civilian memorabilia from WWI to the present including an impressive collection of military vehicles, weapons, equipment, uniforms and a flight simulator. Also, a Piper J-3 "Flitfire" flown by Orville Wright.
---
Then, we're off to blue water and blue skies!
Florida Keys
---
Special Thanks
We are exceedingly grateful for all the love and support from our family and friends. Especially, our parents for their abundant blessings, overflowing love, and incredible generosity to help make all this possible.
---
Thank You For Visiting Our Website!!